Creating a tight seal on your garage door and closing off exposed cracks or holes will help keep out dirt, pest, critters, and rodents out of the garage. We want the critters to stay outside, so closing off any gaps will help to keep them out.  Additionally it will help keep any rain and water out of your garage too.
Get the clutter off the floor, items that bugs, spiders, snakes, or rodents might want to make their home.  Getting stuff off the ground with overhead storage racks, or garage cabinets.  If you keep storage containers in your garage be sure the lids are tightly sealed.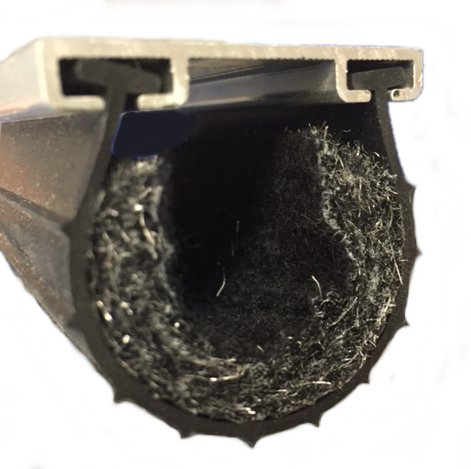 Rodents can get into the smallest of holes, so using a RodentBlock seal on your garage door will put a seal on your door that they can't chew though.  Xcluder's patented fill fabric create a tough barrier that is virtually impenetrable to rodents, resulting in reduced maintenance cost and improved compliance. Compatible with our bottom seal retainers, and fits many standard door retainers.
We offer the Xcluder material by the foot, so that it can be added to other style garage door bottom seal materials. Or get it in the 3″ or 4″ Rubber Seal already attached.
Effective barrier against rodents and other pests
Installs easily and permanently
Non-toxic and non-corrosive
Approved by the USDA as an effective barrier against rodents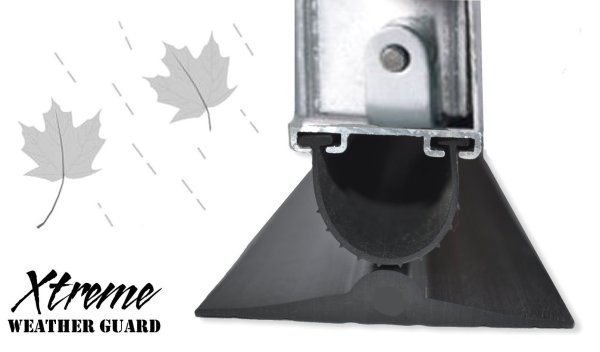 If you have a gap on your garage door that is caused by uneven concrete, a garage door bottom seal may not be enough.  You may need to add a garage door threshold to get a good tight seal.  A garage door threshold is adhered to the concrete where the garage door comes down and meets the ground.  The threshold has a peak that helps fill in the gaps that a garage door bottom seal may not be able to because of uneven concrete or an unusual large gap.
We carry three brands of garage door threshold kits that include the adhesive, the threshold and instructions.
Close off side and top gaps around your garage door.  We offer several solutions to closing the gaps.  The least expensive and easiest solution is our vinyl top and side seal, it attaches to the garage door frame and rest against the edge of the garage door, closing the gaps.  Click here for more information on our side and top garage door seal.  Another solution for closing off side and top gaps is our weather brush seals.  The brush seals fit into an aluminum retainer, most side gaps are closed off with a straight retainer, and along the top of the garage door an angle retainer.  The brush comes in many styles and lengths, the most popular is the slim line brush seal.
Last, fill in cracks and gaps around your garage by stuffing the Xcluder Rodent Block into the holes or filling with a silicon.  Any side doors that lead into the garage should also be weather proofed with brush seals or bottom seals.